The Fauntleroy Fall Festival is an annual neighborhood celebration brought to you by the Fauntleroy Community Association, Fauntleroy Church UCC, West Seattle/Fauntleroy YMCA, Tuxedos and Tennis Shoes Catering, Endolyne Joe's, Fauntleroy Children's Center, Little Pilgrim School, Fauntleroy Schoolhouse, and members of the Fauntleroy community.
Join the fun on Sunday, October 11!
The biggest event of the Fauntleroy community year takes place this coming week! Here's the information you need to plan your day:
Calling all bakers
The Annual Cake Decorating Contest and Cake Walk is part of the Fauntleroy Fall Festival for the fifth year in a row! We need lots of cakes to make this event a success.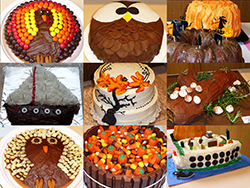 Cakes can be of any shape or size and should be decorated with a fall or West Seattle theme. Join the fun—just bake and decorate a cake! It can be from very simple or very elaborate—you decide. This is a wonderful parent/child or multigenerational project.
There are three categories, from beginner to advanced. Cakes should be brought to the Hall at Fauntleroy (across the street from the church) between 12 noon and 1 p.m. on Sunday, Oct. 11. Voting will take place from 1–3 p.m. The votes will be tallied and the prizes awarded to winners in each category. Then the Cake Walk begins and will continue until all the cakes have been given away.
For more information about the cake decorating contest and cake walk, e-mail Carolyn Tucker (tucker_family@me.com).
Fun at Fauntleroy Children's Center
During the Fall Festival, Fauntleroy Children's Center—at the north end of Fauntleroy Schoolhouse—will make space available in the toddler classroom for diaper changes, relaxation, cookies and cider. In the Center's center hallway, young children can take part in leaf water colors, monster puppets, and a spider ring toss game.
Volunteers needed—can you help?
Volunteers are needed in a variety of roles, including set up, crosswalk guards, climbing wall, inflatable obstacle course, pony rides assistant, volunteer room, woodworking (birdhouses), information booth, and floaters. New volunteers are always welcome! For a brief description of each role, click here. If you can help, e-mail fauntleroyfallfestival@gmail.com at your earliest opportunity.
Be the first on your block to get info about Fall Festival events
Are you a neighbor in the know? Stay in touch with the Fauntleroy Fall Festival. Be among the first to see festival photos. Bookmark this page—visit often! You can also 'Like' the Fauntleroy Fall Festival page on Facebook (click here).
If you have event photos to share, please e-mail them to FCAcommunications@gmail.com.
Scroll to the bottom for photos from the 2014 festival!
Fauntleroy Fall Festival 2015 Fundraiser
On Tuesday, May 5 (5 p.m. on), come to Endolyne Joe's (9261 45th Ave SW, Seattle) for drinks, dinner, or dessert. Once again, Endolyne Joe's has graciously offered to hold a Fauntleroy Fall Festival fundraising evening at their restaurant. A percentage of the evening's sales will be returned to help cover expenses this fall. This is a fun evening for the whole community, and costs nothing more than the meal and drinks you order. See you there!
Remember how much fun we had last year?
The 2014 Fauntleroy Fall Festival was on Sunday, October 19 (2–5 p.m.) at The Hall at Fauntleroy, Fauntleroy Schoolhouse, and Fauntleroy Church and parking lot. Special activities included a climbing wall, pumpkin decorating, birdhouse construction, a mechanical bull, environmental corner activities, an inflatable obstacle course, pony rides, and a petting farm—bunnies and chickens and goals.
Music and other performances included the Back Porch Apostles Band, Chainsaw Geoduck Band, Endolyne Children's Choir, Peter Guyon (and friends) Jazz Quartet, Five Buck Band, West Seattle Community Orchestra ensembles, West Seattle Dance (scenes from The Doll Maker), the Jump Jazz Trio, and the West Seattle Big Band.
The 4th annual Cake Decorating Contest and Cake Walk took place in the Vashon Room at The Hall at Fauntleroy (west/lower level). Contest categories included Beginner, Intermediate, and Advanced. Cakes in all shapes and sizes had Fall, Halloween, or West Seattle themes.
Food was available for purchase at various sites, offered by Stuffed Cakes, Guadalajara, Endolyne Joe's, Tuxedos & Tennis Shoes Catering, and the Fauntleroy Church youth group.

Following please find photos, the 2013 event schedule, and links to media coverage. For more information about the 2014 festival and/or planning for October 2015, e-mail fauntleroyfallfestival@gmail.com.
2014 Fauntleroy Fall Festival Photos & Information
Details | West Seattle Blog Coverage | West Seattle Herald Coverage
The following photos were contributed by longtime Fauntleroy Fall Festival volunteer Jenny Mandt:
The following photos were taken by FCA webmaster Irene Stewart:
To return to the top, click here.
Click here to see photos and other information from previous years, posted in the Fauntleroy Fall Festival Archive.