Welcome! We're glad you're here!
Welcome to the Fauntleroy Community Association portal to news, activities, and organizations in or affecting Fauntleroy. We hope you will enjoy learning more about Fauntleroy and our organization, and that you will get and stay involved in the life of our neighborhood.
The Disposition of the House at 8923 Fauntleroy Way SW
When the Barton Pump Station construction began (2008), King County (KC) purchased the 8923 Fauntleroy Way SW property for $950,000 to serve as its project office. KC also leases the land under the Barton Street pump station (next to the ferry dock), from the Seattle Dept. of Transportation (SDOT), for $85,000 a year.
To get out from under the lease, KC has offered to gift the property at 8923 to the City of Seattle as park land. The Seattle Parks & Recreation Dept. (Parks) would like to increase its stock of water frontage property. Parks has previously stated it is not interested in acquiring new land unless it is adjacent to existing Park property, partly because it doesn't have the resources to adequately maintain its current stock of parks.
Cove Park is a 75 feet wide public street end. It is not a City park and thus not part of Park's jurisdiction/responsibility. The formation of Cove Park began in 1997 by the Fauntleroy Community Association and some very dedicated members. Cove Park is currently maintained by the community. As long ago as 1999, Parks has said they had no interest in Cove Park.
In order for Parks to acquire the property at 8923 and Cove Park, KC must request that SDOT vacate the Barton street end (Cove Park and the pump station property); then Parks would ask the Seattle City Council to (1) acquire Cove Park, and (2) allow Parks to take 8923 Fauntleroy Way SW in trade for the property KC currently leases for the Barton Street pump station. This is a very complicated process of approvals among City Departments and the City Council.
8923 is zoned as single family residence and has 35 feet of waterfront/tide rights. Adding 8923 together with Cove Park would increase the public beach from 75 feet to 110 feet. Eliminating the house and garage at 8923 would open up the view of the Sound. Parks has no plans, as of now, for how they would develop 8923 and Cove Park. Turning Cove Park and 8923 into a single park and having it managed by Parks would eliminate lease and property tax revenues that currently go to the city and add maintenance costs to Parks.
Reverting the 8923 property to private ownership would mean 1) KC would continue to pay the City of Seattle $85,000/year and 2) provide property taxes of approximately $10,000/year. Parks would not have any maintenance costs for Cove Park. There is no parking around 8923. Parking is an ongoing problem in the community/neighborhood.
Seattle Parks Public Meeting on Disposition of Property
On Tuesday, May 24, 2016 (6:30 p.m.) at The Hall at Fauntleroy, Seattle Parks and Recreation is holding a public meeting to discuss the potential "trade" with King County Parks for property located at 8923 Fauntleroy Way SW, adjacent to Cove Park, near the ferry dock. For more information, see the West Seattle Blog story at http://bit.ly/1Wew5TJ. Public testimony will be taken. If you cannot attend, e-mail comments to chip.nevins@seattle.gov.
Food Fest & Annual Meeting Another Huge Success
On March 15, Fauntleroy neighbors and friends sampled the fine foods of Fauntleroy at the Fauntleroy Food Fest & FCA Annual Meeting. The fun took place at The Hall at Fauntleroy. As photos become available, we'll post links here.
Got Fauntleroy School memorabilia?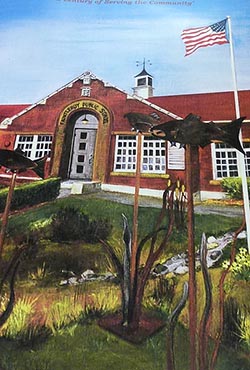 The Fauntleroy Schoolhouse turns 100 in 2017, and a planning committee is laying the groundwork for several celebrations leading up to 2017. Here's what's needed:
Photos and memorabilia: Both donations and loans of materials are welcome. Please include names and year(s) spent at the school.

A database of school alumni. E-mail your contact information and years of attendance.

Centennial event planning. All meetings are held at the Schoolhouse in conference room A.
If you can help, e-mail faunt.schoolhouse100years@gmail.com. You can follow current activities as well as plans for the celebration by following Fauntleroy Schoolhouse on Facebook.
The Fauntleroy Story helps keeps the spirit alive!
The Seattle Channel graciously carries The Fauntleroy Story: 100 Years of Community on their website. Click here to read their description of the videol and suggestion about using our story "to prompt discussion about what makes a neighborhood a community and how to keep that spirit alive."
Fall Festival rocked the neighborhood on Oct. 11!
The Fauntleroy Fall Festival is an annual neighborhood celebration brought to you by the Fauntleroy Community Association, Fauntleroy Church UCC, West Seattle/Fauntleroy YMCA, Tuxedos and Tennis Shoes Catering, Endolyne Joe's, Fauntleroy Children's Center, Little Pilgrim School, Fauntleroy Schoolhouse, and members of the Fauntleroy community.
Visit our Fauntleroy Fall Festival webpage for photos, videos, and more information: www.fauntleroy.net/fallfestival.html.
Thank you to all our Community Partners!
| | | |
| --- | --- | --- |
| Bruce Butterfield, Berkshire Hathaway Real Estate | Janet Keen, Mental Health Counselor | Tuxedos and Tennis Shoes Catering |
| Dance! West Seattle | Pilates at Fauntleroy | Ultrafabtech Computer Repair and Consulting |
| Devir Americas, LLC | Salon Fauntleroy | West Seattle & Fauntleroy YMCA |
| Endolyne Joe's Restaurant | Sheppard Bookkeeping Services | West Seattle Blog |
| Fauntleroy Children's Center | Stuffed Cakes | |
| Fauntleroy Church, United Church of Christ | Synergy HomeCare | |
| Fauntleroy Massage | The Kenney Retirement Community | |
For information about becoming a Community Partner, e-mail FCA president Mike Dey (msdey50@aol.com) or vice-president David Haggarty (dh@tuxedosandtennisshoes.com).
2014 Annual Report Available Online
The 2014 Fauntleroy Community Association report was mailed to FCA members earlier this year. A copy has been posted online on the About Us webpage. Read and celebrate the many accomplishments of your neighborhood association!
Community Resources Directory
Our Community Resources Directory can be printed for easy reference at home. We add more information on a regular basis, so check back periodically for updates.