Welcome! We're glad you're here!
Welcome to the Fauntleroy Community Association portal to news, activities, and organizations in or affecting Fauntleroy. We hope you will enjoy learning more about Fauntleroy and our organization, and that you will get and stay involved in the life of our neighborhood.
Parks Legacy Plan meeting in West Seattle on May 21
Seattle Parks and Recreation invites you and your family to help plan Seattle Parks and Recreation's future. The Parks department has planned six public meetings to discuss how we can ensure a great park system for generations to come. Among six scheduled public meetings, you will find one in West Seattle. On Tuesday, May 21, (7 to 8:30 p.m.) attend a general meeting at the Dakota Place Park Building (4304 SW Dakota St), just north of the Alaska Junction.
The second draft of the Parks Legacy Plan comes out in June. If you care about parks and open space in Fauntleroy and throughout the city of Seattle, please attend. If you cannot attend the meeting in West Seattle, Seattle Parks and Recreation assures us that every meeting is open for general comment. For the meeting flyer, click here. More background information: Draft Plan: Community Discussion and Review | Legacy Plan PowerPoint

Lincoln Park well feted by the community
Fauntleroy Community Association and several community organizations hosted a two-part celebration of Lincoln Park on April 23 and April 27, 2013.
Celebrate Lincoln Park: Part I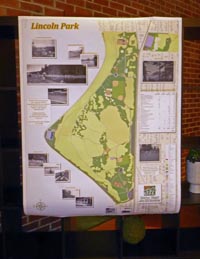 Celebrate Lincoln Park: Part I was held Tuesday, April 23 (6:30–8:30 p.m.) at The Hall at Fauntleroy. It featured information tables and presentations about the history, creatures, and ecological importance of the park, presented by Seal Sitters, the Whale Trail, Fauntleroy YMCA, Seattle Parks and Recreation, Puget Sound Partnership, Seattle Animal Control, Friends of Lincoln Park, and the Alliance for Lincoln Park Nature.
Speakers included:
* Friends of Lincoln Park: Come Work With Us, by Sharon Baker, President, Friends of Lincoln Park
* Lincoln Park History in a Nutshell, by Judy Pickens, local historian (script)
* Trileigh Tucker, Associate Professor of Environmental Studies, Seattle University
* Parks Legacy Plan, by Christopher Williams, Acting Superintendent, Seattle Parks and Recreation
News coverage:
* Celebrate Lincoln Park meeting shares information, explores Seattle Parks legacy plan, West Seattle Herald (4/23/13)
* Video: Watching, listening, and learning at 'Celebrate Lincoln Park,' part 1, West Seattle Blog (4/24/13)
Celebrate Lincoln Park: Part II
Celebrate Lincoln Park: Part II was held Saturday, April 27 (10:30–2:30 p.m.) at the park. Birders, beach naturalists, nature photographers and artists were involved in planning the event.
Seattle Aquarium Beach Naturalists (a volunteer group) helped visitors explore the beach during a minus-2.6' tide. Seal Sitters, Tox-Ick, Puget Soundkeeper Alliance, and Seattle Aquarium staff offered expert information near the shoreline. Local experts in birds, marine life, plants, ecology, nature photography, and art led nature walks and creative activities in the upper part of the park, helping visitors learn about forest plants and birds, and how to take good nature photos, keep a journal, and sketch or paint what you see. Children played leaf-hunt bingo and other games.
For a detailed schedule of April 27 events, click here.
For a printable map of Lincoln Park, click here.
News coverage:
* Happening now: 'Celebrate Lincoln Park 2,' shore to forest, West Seattle Blog (4/27/13)
Celebrate Lincoln Park Photos
For photos from both events, click here.
Survey Says ... Thank You!
For several months, the Fauntleroy Community Association board of directors has conducted an online survey to find out what members, neighbors, and friends think about the organization and the neighborhood's natural assets—the environment, landmarks, history, and people. The survey ended on March 31.
Thank you to everybody who participated in the survey. Your opinions and ideas are important to us. The board will analyze results and consider comments over the next several months. Results will be posted here. If you requested contact, you can expect to hear from a board member during that time. Thanks again!
Fauntleroy Food Fest & Annual Meeting a Big Success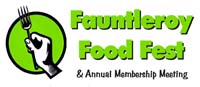 The 2013 Fauntleroy Food Fest & Annual Meeting on Tuesday, March 19, at The Hall at Fauntleroy was well attended. Participants sampled foods provided by Bird on a Wire Espresso, Endolyne Joe's, Giannoni's Pizzeria, Guadalajara Mexican Restaurant, The Kenney, The Original Bakery, Stuffed Cakes, Tuxedos and Tennis Shoes Catering, and West Seattle Fish House.
New officers were elected, including president David Haggarty and vice-president Mike Dey (board roster elsewhere on this site to be updated in the near future). Outgoing president Bruce Butterfield was recognized for more than 12 years of service.
For event photos and more detail, read "Fauntleroy Community Association celebrates membership, leadership, and—ahead—Lincoln Park" (West Seattle Blog, 3/20/2013).
Fauntleroy Night at ArtsWest: Wednesday, May 8
ArtsWest Playhouse & Gallery has offered to continue the special discount for Fauntleroy residents on the second Wednesday of the next run. See "33 Variations" on Wednesday, May 8. "A mother coming to terms with her daughter. A composer coming to terms with his genius. And, even though they're separated by 200 years, these two people share an obsession that might, even just for a moment, make time stand still. Drama, memory and music ... ."
Tickets are 15 percent off when you call the ArtsWest Box Office (206-938-0339) and ask for the Fauntleroy Night (or FCA) rate—May 8 only! For more information about the play, visit the ArtsWest website at www.artswest.com.
10th Anniversary of the Fauntleroy Fall Festival
The 10th annual Fauntleroy Fall Festival, held on Sunday, October 14, 2012, offered fun for all ages. Despite a lot of rain—the first downpour this festival has ever experienced—hundreds of Fauntleroy neighbors and friends turned out. For a schedule of events, news coverage, and lots of photos, visit our Fauntleroy Fall Festival webpage.
Seattle Parks and Recreation Withdraws Ziplining Proposal
Just one day after a contentious Fauntleroy Community Association board meeting, at which representatives of the Seattle parks department heard a chorus of opposition to its proposal to add a commercial zipline operation at Lincoln Park, the parks department has withdrawn the proposal. Read the City of Seattle's press release here. News coverage of the July 10, 2012 FCA board meeting and the department's subsequent decision is has been posted on the Zipline page on this site.
Community Resources Directory
Our Community Resources Directory can be printed for easy reference at home. We add more information on a regular basis, so check back periodically for updates.