Welcome! We're glad you're here!
Welcome to the Fauntleroy Community Association portal to news, activities, and organizations in or affecting Fauntleroy. We hope you will enjoy learning more about Fauntleroy and our organization, and that you will get and stay involved in the life of our neighborhood.
2013 Fauntleroy Fall Festival was a blast!
Since 2002, the Fauntleroy Fall Festival has brought Fauntleroy neighbors and friends together to celebrate the season and the community. The 11th annual Fauntleroy Fall Festival took place on the afternoon of Sunday, October 20. Read all about it on our Fauntleroy Fall Festival webpage.
West Seattle Transit Coalition addresses transportation and mobility issues
A West Seattle Transportation Coalition, launched in September 2013 with several members of your Fauntleroy Community Association board in attendance, has asked individuals and organizations to complete a brief issue survey, which can be downloaded here (PDF) (Word). Completed surveys ca be submitted by e-mail (info@westseattletc.org). All West Seattle residents are encouraged to participate in this survey, indicating their most pressing transportation issues, each issue's severity and each issue's urgency. For more information about the West Seattle Transit Coalition, visit www.westseattletc.wordpress.com.
Seattle Night Out Against Crime
Tuesday, August 6 was the date of the 2013 Seattle Night Out Against Crime. For more information, visit the FCA Seattle Night Out webpage or the SPD Night Out webpage.
Celebrate Lincoln Park
Lincoln Park was well feted by the community on April 23 and April 27, 2013. Fauntleroy Community Association and several community organizations hosted a two-part celebration. For more information, visit the Celebrate Lincoln Park webpage.
Fauntleroy Food Fest & Annual Meeting a Big Success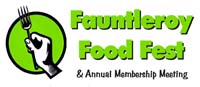 The 2013 Fauntleroy Food Fest & Annual Meeting on Tuesday, March 19, at The Hall at Fauntleroy was well attended. Participants sampled foods provided by Bird on a Wire Espresso, Endolyne Joe's, Giannoni's Pizzeria, Guadalajara Mexican Restaurant, The Kenney, The Original Bakery, Stuffed Cakes, Tuxedos and Tennis Shoes Catering, and West Seattle Fish House.
New officers were elected, including president David Haggarty and vice-president Mike Dey (board roster elsewhere on this site to be updated in the near future). Outgoing president Bruce Butterfield was recognized for more than 12 years of service.
For event photos and more detail, read "Fauntleroy Community Association celebrates membership, leadership, and—ahead—Lincoln Park" (West Seattle Blog, 3/20/2013).
Seattle Parks and Recreation Withdraws Ziplining Proposal
Just one day after a contentious Fauntleroy Community Association board meeting, at which representatives of the Seattle parks department heard a chorus of opposition to its proposal to add a commercial zipline operation at Lincoln Park, the parks department has withdrawn the proposal. Read the City of Seattle's press release here. News coverage of the July 10, 2012 FCA board meeting and the department's subsequent decision is has been posted on the Zipline page on this site.
Community Resources Directory
Our Community Resources Directory can be printed for easy reference at home. We add more information on a regular basis, so check back periodically for updates.